Because simply is better!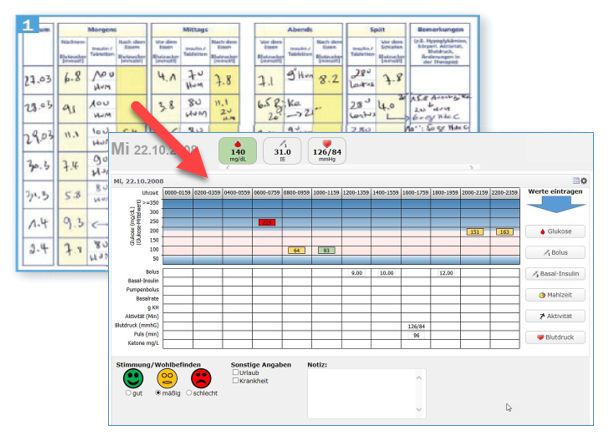 With DIABASS® you can easily record and evaluate your diabetes data on your PC.
The software offers numerous functions and is nevertheless easy to use: even inexperienced computer users will find their way around very quickly and will be able to use it easily. .
---
One software for all devices
With DIABASS® you get a software that allows you to import data from all common blood glucose meters as well as from CGM and insulin pump systems. And if you record your values with a diabetes app, then you can also use this.

DIABASS® is independent of any device manufacturer and open to all providers. This means that you are not limited to devices from the "big" providers such as Accu-Chek, Contour or FreeStyle Libre, but you can also use devices from "smaller" brands.
---
No compromise on privacy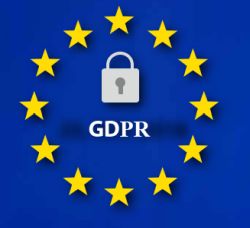 DIABASS® stands for strict data protection and is the alternative to the data-hungry cloud solutions of the pharmaceutical industry.
With DIABASS® all your health data remain stored only on your PC.

You don't have to register or log in anywhere.
You don't even have to provide your email address.
---
Being in business for almost 30 years

The first version of DIABASS® was launched already in 1992, making it a pioneer in electronic diabetes data management. Since then, the software has been constantly developed further.
And not "on the drawing board" of the industry, but programmed by diabetics for diabetics.

In the meantime, DIABASS has become one of Europe's leading solutions for diabetes data management.
For thousands of doctors' practices and clinics - especially in Germany, Switzerland, Austria, Belgium, the Czech Republic, Italy and the Netherlands - DIABASS® PRO has become an indispensable part of everyday life.
---
Convenient data entry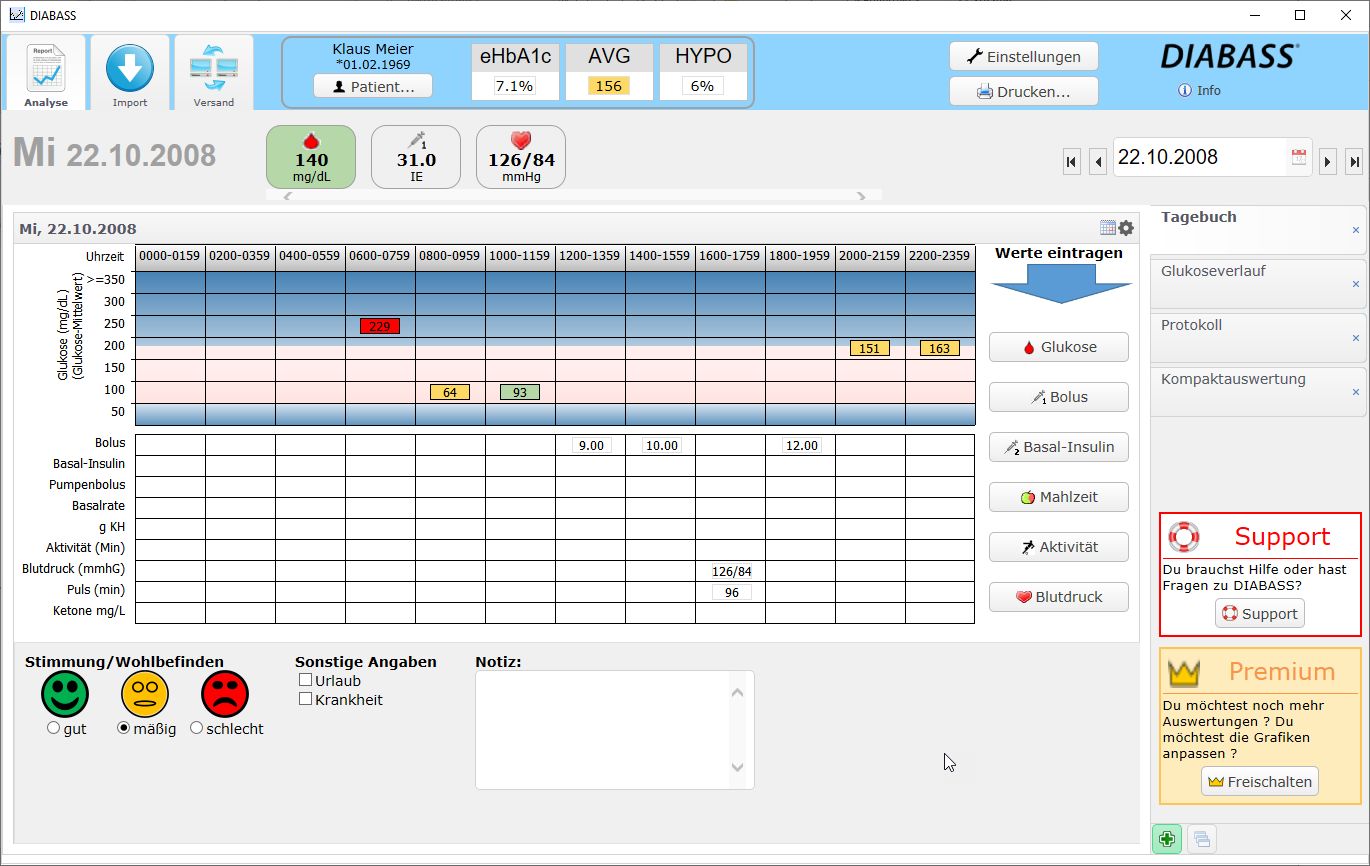 Importing data from the blood glucose meter saves tedious typing work.
But your diabetes team needs more than just the glucose values for an optimal therapy:
For example, it can be important when and how much insulin you injected or what exactly you have eaten.

DIABASS® allows convenient manual data entry: the daily values are displayed in the form of a blood glucose diary.

You can record blood glucose values, insulin, meals, sport, blood pressure and other entries - just like in the paper diary.
---
Comprehensive charts
Glucose history
The glucose history shows all diabetes data for a selected period. In addition to the graphical representation, you also receive comprehensive statistics.

Of course, you can select the evaluation period individually.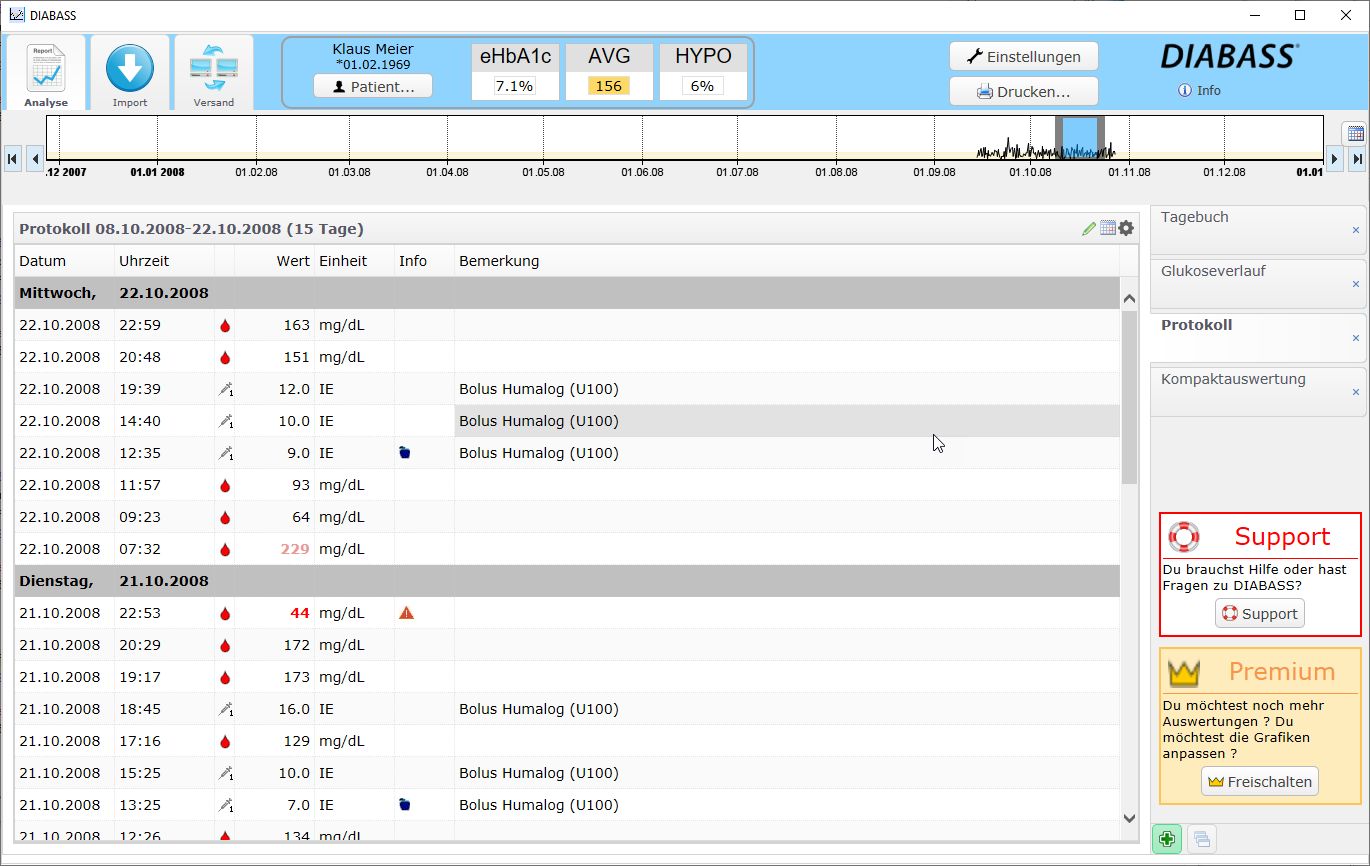 Log
The log shows all data of the selected period as a clear list.

For example, you can see blood glucose, insulin, diet and exercise, but also the basal rate of the insulin pump or the individual sensor measurements.
Compact report
Everything at a glance: with the compact report, several evaluations are displayed one below the other, for example the glucose history, the standard day, or the Ambulantory Glucose Profile (AGP).

Important key figures are clearly displayed on a target and explained.
---
Send data to your doctor - highly secure and end-to-end encrypted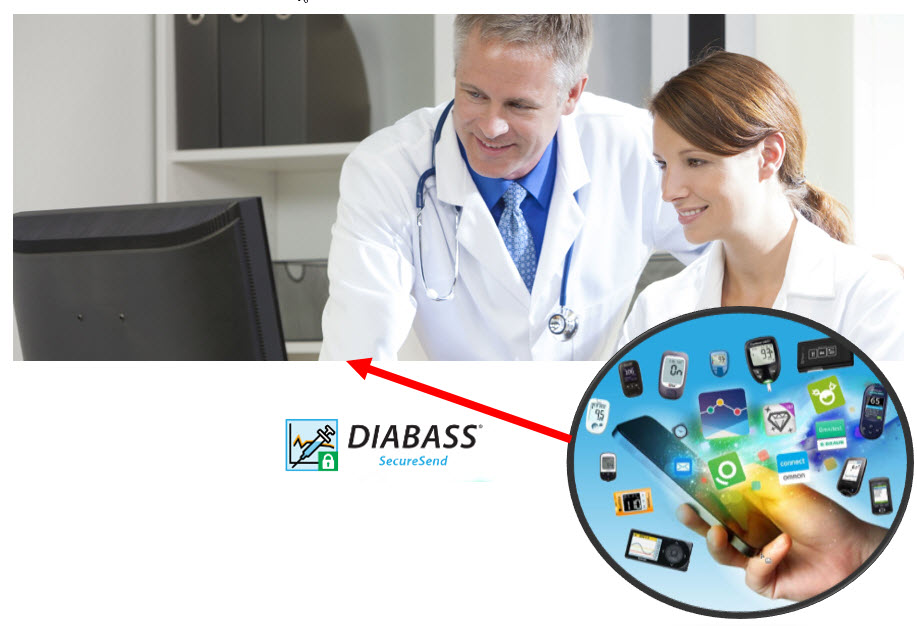 To prepare for your next appointment, you can conveniently send your diabetes data to your doctor in advance.
The data is encrypted (″end-to-end″) on your computer and sent to the doctor by e-mail, so that no third party can see your data.

The encryption is done according to the AES-256 standard, which is approved in many countries for government documents with the highest level of secrecy.
---
Supported blood glucose meters
With DIABASS® data import is not only possible from market-leading systems such as Accu-Chek, Contour or FreeStyle Libre, but you can also use meters from "smaller" suppliers.

The following devices are currently supported:

ARKRAY Glucocard Sigma, Glucocard 01-mini plus, Glucocard X-mini plus ABBOTT FreeStyle Optium Neo, FreeStyle Precision Neo, FreeStyle Insulinx, FreeStyle Freedom Lite, FreeStyle Lite, FreeStyle Freedom, FreeStyle Papillon Mini, Precision Xceed, FreeStyle Mini, FreeStyle ACCU-CHEK Accu-Chek Instant S, Accu-Chek Instant, Accu-Chek Performa Connect, Accu-Chek Guide, Accu-Chek Aviva Insight Diabetes-Manager, Accu-Chek Aviva Connect, Accu-Chek Aviva (2014), Accu-Chek Aviva Expert, Accu-Chek Mobile U1, Accu-Chek Aviva Combo, Accu-Chek Aviva Performa Nano, Accu-Chek Aviva Nano, Accu-Chek Mobile, Accu-Chek Voicemate, Accu-Chek Performa, Accu-Chek Compact Plus, Accu-Chek Aviva, Accu-Chek Sensor, Accu-Chek Go, Accu-Chek Active, Accu-Chek Compact, Accu-Chek Complete AGAMATRIX Grace Pro, iTest, WaveSense Presto, WaveSense Jazz, Wellion Linus AKTIVMED GlucoCheck Gold, GlucoCheck Excellent, GlucoCheck Comfort, GlucoCheck Pro ALPHA 1 VG-Ratio APEXBIO GlucoSure Max, MedCore Care, GlucoSure Voice, GlucoSure Star APONORM Gluco-A ASCENSIA Contour plus BLUE, Contour next (connectable), Contour Care, Contour next (2019), Contour (2017), Contour Plus, Contour plus ONE, Contour next ONE, Contour next link 2.4, Contour next link, Contour next, Contour next usb, Contour XT, Contour usb, Breeze2, Contour2, DEX AXAPHARM Healthpro X1, Healthpro B.BRAUN Omnitest Uno, Omnitest 5, Omnitest 3, Omnitest Plus BAYER Contour Link, Confirm, Breeze, Contour, Elite XL BEURER Beurer GL49, Beurer GL48, Beurer GL 43, Gl50 evo, Gl50, Beurer GL 44, Beurer BGL 60, Beurer GL 40, Beurer GL 34, Beurer GL 32 BIONIME Pura, ClickStar GM550, GM550 BIOTEST MEDICAL Pronto, VG-Ratio, Bionano CARDIMAC Monometer Advance PLUS, Monometer advance, Monometer 2in1, Monometer Futura DELBIO VG-Check, GlucoTime, MIA-BZ, Diacheck DA01, Diacheck Superior, Diacheck Premium DRAEGER MEDICAL DEVICES GMBH SOMAbe DYNACARE Dynavaleo Liso E77 Sensolite Nova Plus, Sensolite Nova, Sensocard Plus, Sensocard, Autosense, Autosense Voice, Glucotalk FORA FORA Diamond Mini (Bluetooth), FORA Comfort Pro (DM40), FORA GD40a (DM40), FORA Diamond Mini (DM30), FORA Diamond Voice (DM20), FORA Diamond Prima (DM10) HDI TrueBalance, TrueRead, TrueTrack, TrueResult, Wellion SmartSystem 2, Wellion TrueTrack HMM SmartLab Sprint nG HUMAN NUTRITION DIAVUE Prudential IMACO Bionano IMCARMED GlucoTime, MIA-BZ, Diacheck DA01, Diacheck Superior, Diacheck Premium IME-DC DEXTRA, iDia, Fidelity INFOPIA adia, Element NEO, GluNEO, Element, Finetest autocoding, Finetest, Glucolab, EasyGluco INSULET Omnipod Dash, Omnipod LOREX TD-4235 Mini, TD-4116 Next LIFESCAN OneTouch Verio Reflect, OneTouch Ultra Plus Reflect, OneTouch Ultra Plus Flex, OneTouch Select Plus Flex, OneTouch VerioFlex, OneTouch SelectPlus, OneTouch Verio, OneTouch VerioIQ, OneTouch Select, OneTouch VerioPro, OneTouch Vita, OneTouch UltraEasy, OneTouch UltraMini, OneTouch Ultra2, OneTouch Ultra LOBECK MediSmart Sapphire, MediSmart Ruby MSP BODMANN GlucoSmart Salsa Connect, Glucosmart Salsa, Glucosmart Swing MEDCORE GlucoSure Max, MedCore Care, GlucoSure Voice, GlucoSure Star MEDTRONIC Contour Link MENARINI Glucomen Day Meter, Glucomen Areo GK, Glucomen Areo 2K, Glucomen Areo, GlucoMen READY, GlucoCard G+, GlucoMen LX Plus, GlucoMen Gm, GlucoMen LX METRADO Gluceofine, GluceofinePRO MÉRY MÉRY URight NOVADIA Juno NIPRO DIAGNOSTICS 4sure Smart, TRUEyou mini, TRUEyou NOVABIO Nova MaxLink, Nova MaxPlus NOVADIA Nero OMRON OMRON HEA221 SD DIAGNOSTICS GlucoNavii GDH, GlucoNavii Mentor, SD CodeFree STADAVITA STADA GlucoResult To Go Plus, STADA Gluco Care, STADA Glucocheck, STADA Gluco Result SANOFI AVENTIS MyStar Extra, BG Star TESTAMED TESTAmed GlucoCheck Advance, TESTAmed GlucoCheck Plus TAIDOC VOiCE3, Gluco Veritas, TD-4206, Glucofast Duo, TD-4279, TD-4289, Cardimac Aurum, Glucotest DUO, TD-4141, TD-4285, Glucotime Neo, CleverChoice Mini, CleverChoice Voice+, CleverChoice Pro, MÉRY URight, Alpha-GDH, Medpro maxi, ZuckerChecker, Advance Monometer Profi, GlucoRX, TD 9018, TD 3252, Monometer 2in1, TD 4227, TD 4231, TD 4232, TD 4237, TD 4230 TERUMO Terumo MEDISAFE FIT SMILE, Terumo MEDISAFE FIT, Terumo Finetouch TYSON HT 100, TysonBio TB100, Dynavaleo Liso VIVACHEK VivaChek Ino WELLION Wellion Newton, Wellion Luna Trio, Wellion Galileo Compact, Wellion Leonardo Compact, Wellion LEONARDO GLU/CHOL, Wellion LEONARDO GLU/KET, Wellion Galileo GLUC/CHOL, Wellion Galileo GLUC/KET, Wellion Luna Style, Wellion Calla Mini, Wellion Luna Duo, Wellion CALLA premium, Wellion CALLA dialog, Wellion CALLA light, Wellion SmartSystem 2, Wellion TrueTrack YPSOMED mylife Aveo, mylife Unio Neva, mylife Unio, mylife Omnipod, mylife Pura BERGERMED alphacheck NFC, alphacheck professional, alphacheck plus EU MEDICAL easypharm-GL I-SENS CareSens N NFC, CareSens N Eco, CareSens N Pop, CareSens N Premier, Acura Plus, CareSens N MEDIASPECTS Sample Other Veri-Q Balance Pro, GlucoCheck XL, Monometer oled, Monometer sesli, Monometer Voice
Systems marked with * need to be imported using the manufacturer's software.

---
Supported insulin pumps

The following insulin pumps are currently supported:

ACCU-CHEK Accu-Chek Solo Diabetes-Manager, Accu-Chek Insight, Accu-Chek Spirit Combo, Accu-Chek H-Tron, Accu-Chek D-Tron, Accu-Chek Spirit INSULET Omnipod Dash, Omnipod MEDTRONIC Medtronic 780G*, Medtronic 670G*, Medtronic 640G* MENARINI Glucomen DayPump SOOIL DanaRS *, Dana R TANDEM t-slim:x2* WELLION Wellion Micro-Pump YPSOMED mylife YpsoPump, mylife Omnipod
Systems marked with * need to be imported using the manufacturer's software.

---
Supported Continuous Glucose Monitoring Sytems (CGM)

The following CGM/FGM are currently supported:

ABBOTT FreeStyle Libre 3*, FreeStyle Libre2*, FreeStyle Libre ASCENSIA Eversense E3 DEXCOM Dexcom G4, Dexcom G7*, Dexcom G6*, Dexcom G5* MEDTRONIC Medtronic 780G*, Medtronic 670G*, Medtronic 640G* MENARINI Glucomen Day* YUWELL Yuwell CT-100 Other Glucolog Web Cloud, Dexcom Clarity
Systems marked with * need to be imported using the manufacturer's software.

---
Supported blood pressure meters

The following blood pressure meters are currently supported:

AXAPHARM axapharm AO8, axapharm X9, axapharm AO7, axapharm AU4 BEURER Beurer BC 80, Beurer BGL 60 CARDIMAC Monometer 2in1 OMRON OMRON 705-IT, OMRON R7, OMRON RX-Genius, OMRON M9, OMRON M10-IT, OMRON MIT-Elite Plus TAIDOC TD 3252, Monometer 2in1
Systems marked with * need to be imported using the manufacturer's software.

---
Supported apps / file formats

The following file formats are currently supported:

ABBOTT FreeStyle Libre Software, Libre View, Abbott Insulinx TXT, CoPilot ACCU-CHEK Accu-Chek 360° (CSV), Accu-Chek U1 CSV, Accu-Chek SmartPix XML AKTIVMED DIAmant APPLE Apple Health (ZIP) ASCENSIA Contour Diabetes App B.BRAUN Omnitest App BETACHEK Betachek Diabetes App BLIP SOFTWARE LTD Blutdruck (MyDiary) BOSO boso Profil-Manager Export DEXCOM Clarity, DexCom Studio DIABETES CONNECT Diabetes Connect DIABETES+ Diabetes+ App (CSV) DIABOOK Diabook DIASEND Diasend (XLS) FORACARE iFora HM GLUCOFACTS Glucofacts (DB) GLUCOLOG LITE Glucolog Lite App (XML) INSULET Omnipod IBF LIFESCAN OneTouch Reveal App MEDTRONIC Medtronic iPro CSV, Carelink, Medtronic 670G*, Medtronic 640G* MENARINI Glucomen Day *, Glucolog Lite App, Glucomen Day* NIGHTSCOUT/XDRIP xDrip OMRON Omron Connect (XLSX), OMRON Connect ONEDROP INC. OneDrop ROCHE mySugr SANOFI AVENTIS iBG*Star App SENSEONICS Eversense DMS (XLSX) SINOVO Sidiary 6 Export SOOIL DanaRS App *, DanaRS * TIDEPOOL Tidepool (XLSX) WITHINGS Withings Body Scale YPSOMED mylife (CSV) YUWELL Yuwell CT-100 (TXT) GLOOKO glooko MEDIASPECTS DIABASS EXCHANGE, DIABASS5, DIABASS6, DIABASS IMPORT FILE, DIABASS DAS, DIABASS XML, DIABASS ASC Other DIASYM
---
Free Download
. Download DIABASS® for free. It is completely free of charge.
There is even no need to log in or register.


Download
DIABASS® for patients (requires Windows 7 SP2 or higher)
Version:
6
Build:
23,9,0,1
Date:
12.09.2023
Size:
189074 KB
MD5:
517a84adba094240a9cca7a8c82151ee
DIABASS is free - but please support DIABASS and share this link on your preferred social media !
---
Help and Support
You have questions about the software or need support with technical problems?
Please go to the DIABASS
®
user forum where you will find quick help and many instructions.
User forum

---
More features with the Premium subscription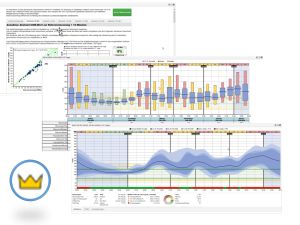 Upgrade to DIABASS premium subscription and get many more features, such as the standard day, AGP analysis or CGM training, which allows you to check the accuracy of your CGM
.
The additional functions included in the Premium subscription are marked with the premium symbol

.
And best of all, the Premium subscription costs less than a cup of coffee a month!
Buy 'Premium'